These editions are unique in that they have a 3 dimensional quality interjecting texture/surface. Mixografia Studios expands the realm of printmaking by incorporating dimensionality and relief into a traditionally two-dimensional medium. They are pioneers in this form of printmakingMixografia produces prints using custom print and papermaking machinery designed and built in-house to fit the specific needs of each artist and artwork.
Jacob Hashimoto (born 1973, Greeley, Colorado, USA) is an artist based in New York. Using sculpture, painting, and installation, Jacob Hashimoto creates complex worlds from a range of modular components: bamboo-and-paper kites, model boats, even astroturf-covered blocks. His accretive, layered compositions reference video games, virtual environments, and cosmology, while also remaining deeply rooted in art-historical traditions notably, landscape-based abstraction, modernism, and handcraft.
Much of Hashimoto's work materials reflect traditional Japanese culture. Despite his strong ties to the culture, however, he has not been to Japan and does not speak the language. His connection instead comes from his Japanese-American father. His mother, on the other hand, is Irish-American.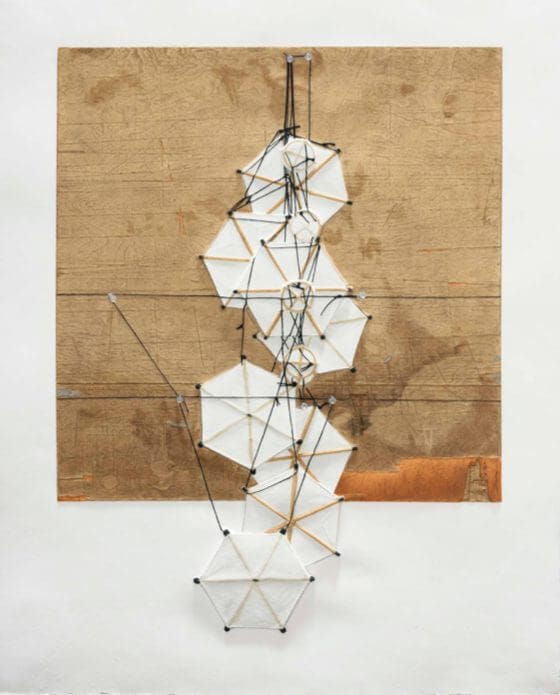 Mimmo Paladino is an Italian Transavantgarde sculptor, painter, and muralist. Born on December 18, 1948 in Paduli, Italy, he attended the Liceo Artistico of Benevento. Paladino played a central role in developing the Transavantgarde movement, which sought to bring emotion, figuration, and mysticism back into avant-garde art. His early painting Cordoba (1984), a portrayal of two semi-abstracted figures tussling in a courtyard, has become one of his best-known images. Paladino was showcased at the 1980 Venice Biennale for its Transavantgarde-specific exhibition, and that same year, he had two solo exhibitions in New York. More recently, he garnered attention for his large-scale public installations, including The Salt Mountain (2010), a large white mound strewn with sculptures of horses lying on their sides. Paladino has also collaborated on many sound and visual art pieces with Brian Eno, the earliest of which, Dormienti, was presented the Roundhouse in London in 1999. He has shown work worldwide, including the Hirshhorn Museum and Sculpture Garden in Washington, D.C. and the Tate Modern in London. He lives in Rome, Italy.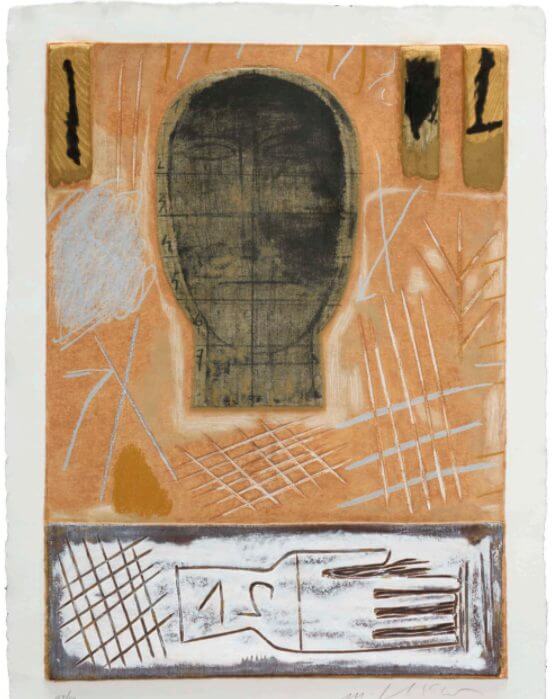 Jorge Pardo This is a very cool dynamic work which relates to his work in architecture and Lighting. It has lights which make it Luminesce when turned on
"When I work with patterns and colour my interest is density of irregularity. It's a simple system, which is really not much of a system: I choose a shape to disperse colour and any combinations of colour work."
Born in Havana, Cuba (1963), Jorge Pardo relocated to Chicago, USA, with his family as a child. Always eager to explore aesthetic possibilities at the intersection of technology and craftsmanship, Pardo was one of the first sculptors of his generation to bring advanced computer technology into the art studio, exponentially expanding his vision. The result was an exuberant synthesis of technology and thought, fashioned into colourful sequences and combinations of life-enhancing objects of reflection.
Like a latter-day Frank Lloyd Wright, Pardo has devoted himself as an artist to creating entire living environments as well as individual works. His most ambitious projects are houses conceived as works of art: sculpture as site-specific architecture. His first such commission was a horseshoe-shaped house in Los Angeles titled '4166 Sea View Lane' (1998) lit with 110 hand-blown biomorphic glass ceiling lamps. Pardo describes 'House' (2008), his current home in downtown Merida, Mexico, as "a building transformed into a sculpture that is also a place of residence." 'Tecoh' (2012), is an extensive series of new and adapted buildings made for a collector and built on the ruins of a 17th century Hacienda in the Yucatan. A Utopian estate blending Mayan culture with ultra-modern design, Pardo installed his exuberant tiled surfaces and signature ceiling lamps throughout the property, which includes several adobe-walled guest cottages with roofs made from traditional thatched native palm fonds. Described by Pardo as "architecture without a program," Tecoh marries the skills of highly trained local craftsmen using traditional techniques with the infinite possibilities of computer technology.
Pardo studied at the University of Illinois, Chicago and received his BFA from Art Center College of Design in Pasadena, California. He had his first solo exhibition with David Gill Gallery in 2015, and his work has been the subject of numerous solo exhibitions at international institutional venues. These have included: K21 Kunstsammlung Nordrhein-Westfalen, Düsseldorf (2009); Los Angeles County Museum of Art (2008); and Museum of Contemporary Art, North Miami (2007). Significant group exhibitions have ranged from: Display – between art and arts & crafts, Applied Arts Pavilion, the 57th Biennale di Venezia (2017); Okoyama Art Summit (2016), Viehof Collection: International Contemporary Art, Deichtorhallen, Hamburg (2016); Beyond the Supersquare, Print/Out, MoMA Museum of Modern Art, New York (2012); Works from the Tate Collection, Tate Modern, London (2006). In 1996, along with the artists Carsten Höller, Pierre Huyghe and Rirkrit Tiravanija, Pardo was featured in Nicolas Bourriaud's exhibition Traffic at CAPC Musée d'Art Contemporain de Bordeaux, in the catalogue for which Bourriaud coined the term 'Relational Aesthetics'.
Manolo Valdez
The Perfils are very rare to find anywhere
Declaring himself "a consumer of art and its history," Manolo Valdés ranges deftly across mediums, producing witty, art-historically informed drawings, paintings, prints, and sculptures that explore history and contemporary culture, politics and everyday life. Approaching each medium as part of an interconnected whole, Valdés asserts: "That is what art is all about—how to invent many projects from one single image." Trained as a painter, Valdés grew up imbibing the works of Spanish masters like Diego Velázquez and Pablo Picasso, later becoming influenced by Pop Art. With Rafael Solbes and Joan Toledo, he formed Equipo Crónica group (early 1960s-1981), utilizing the Pop idiom to criticize Spanish dictator Francisco Franco in scathing paintings. References to Spain abound in his work, in portraits resembling its royalty, sculptures recalling Don Quixote and Sancho Panza, or in the recurring, semi-abstracted figure of the Infanta from Velazquez's Las Meninas (1656).