Michael Mazur had been making prints, drawings and paintings for over 50 years. His work has been shown in over 150 solo and group exhibitions, and is included in most major public and private collections throughout the country.
His work has been exhibited at MOMA, The Whitney Museum of American Art, The Brooklyn Museum, and the Metropolitan Museum of Art. His work can be found in various collections in Chicago, Philadelphia, Houston, San Francisco and abroad in museums in Canada, England, Italy and Germany, Columbia, South America, South Korea, and Canberra, Australia. A retrospective of his prints opened at the Museum of Fine Arts, Boston in 2000, traveling to the Minneapolis Art Institute, and Stanford's Cantor Center, among others. Hudson Hills Press published THE PRINTS OF MICHAEL MAZUR including a catalogue raisonne'. His recent INFERNO OF DANTE, a suite of 41 etchings, with text by Robert Pinsky, has won critical praise and was first exhibited at Museo di Castelvechio, Verona and The American Academy in Rome with a catalogue by Electa Editions. It toured the US between 2005-2007, organized by CATE, Pasadena, CA. His writing has appeared in the Catalogue of "the Painterly Print" from the Metropolitan, Museum, in ART NEWS, The PRINT COLLECTORS NEWSLETTER, ART ON PAPER, and M-E-A-N-I-N-G on the on line magazine ART KRUSH; He has won awards from the Tiffany Foundation, The National Institute of Arts and Letters, the Guggenheim Foundation and a Distinguished Career award from the Southern Graphics Council. He was a full time faculty member at RISD, Brandeis University, and later, a visiting artist for many years at Harvard's Carpenter Center. He served on the Boards of the Artist Foundation in Boston, MA, the Council for the Arts and Humanities, and was an Overseer of the Museum of Fine Arts in Boston. Mazur was on the Board and Visual Committees of the Fine Arts Work Center in Provincetown Massachusetts and was its Co-Chair from 1997 until 2001. His work is represented in New York by the Ryan Lee Gallery and in Boston, by the Krakow-Witkin Gallery and in Provincetown, MA at Albert Merola Gallery.
http://michaelmazur.net/
The following Amaryllis Etchings (Cala 1 and 2) are editions of 20 unique mono prints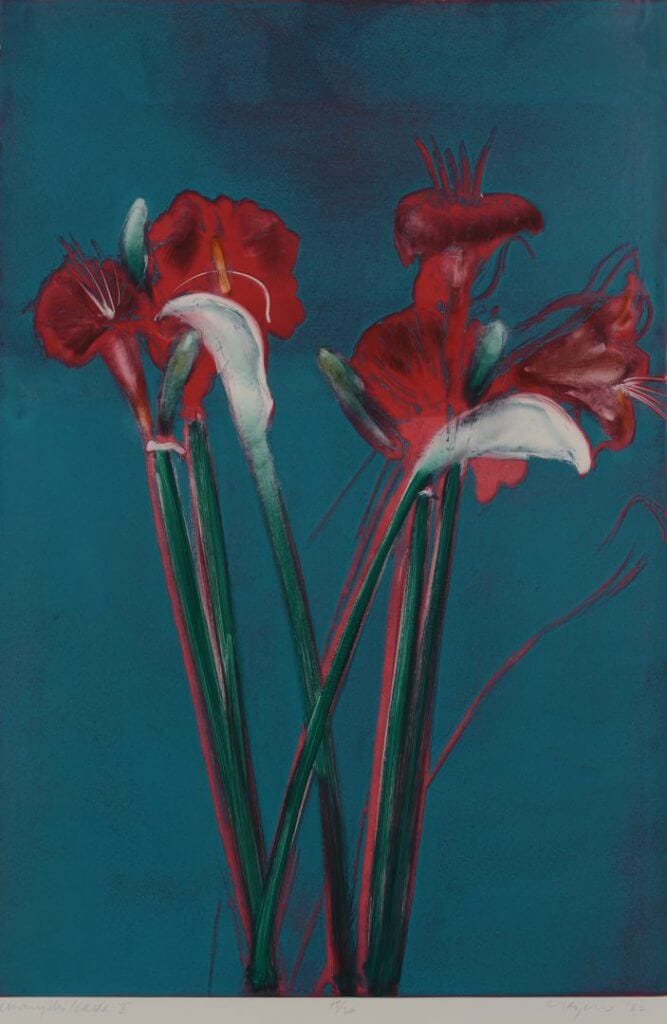 Also Available
This is Stunning…and at the time, was the largest Monoprint ever done. It was comissioned by Harvard University (please see interesting story and video below)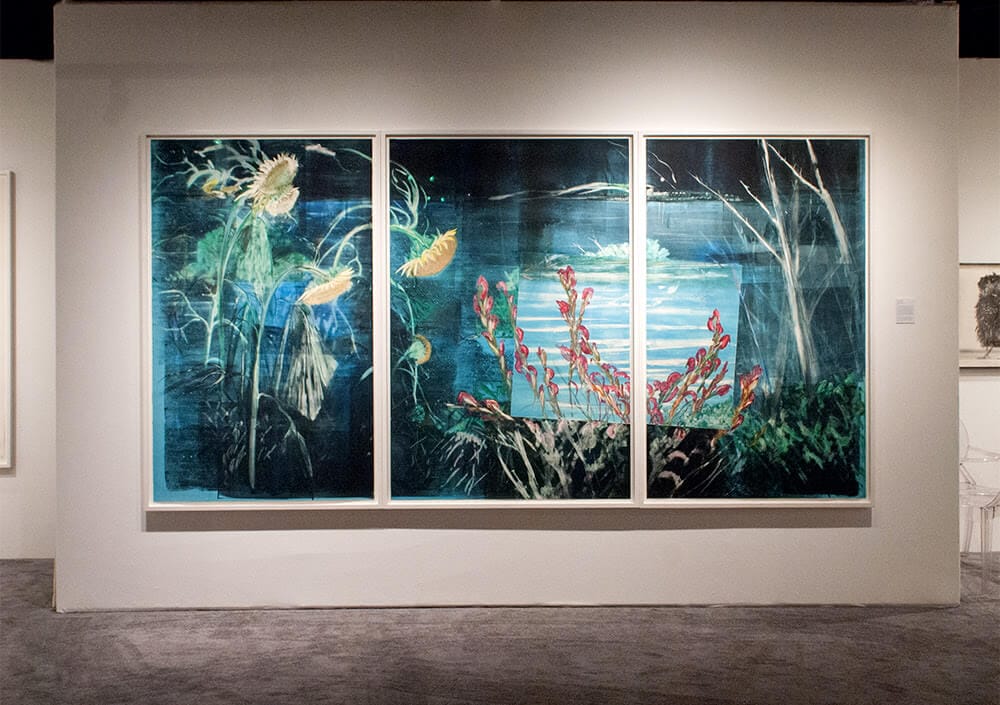 Creating Wakeby Day and Wakeby Night (Fascinating documentary)
Video of Mazur creating Wake by
A Wakeby Fascination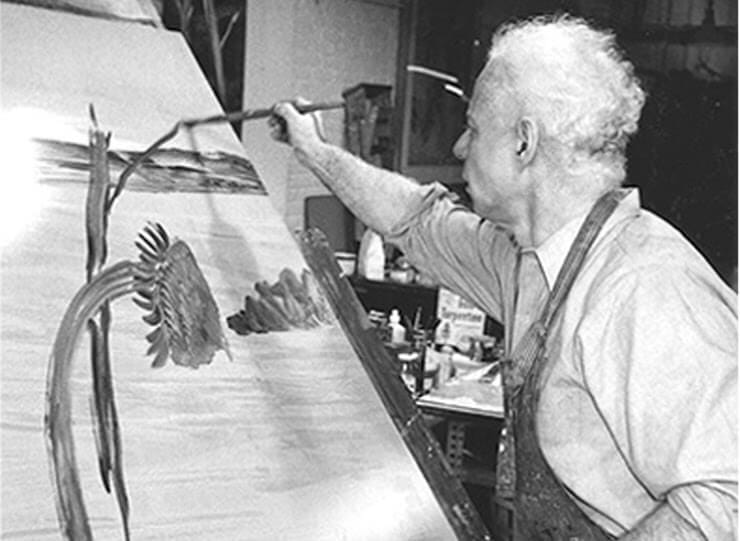 Mazur began his work with the montoype medium in the 1970s, after being exposed to Edgar Degas' nineteenth-century work. In a 2000 interview, Mazur explains, "I was trained in traditional printmaking—and then I discovered this painterly aspect in myself that liberated me and made it possible for me to get back into painting. So in a way the monotype was for me a bridge between printmaking and painting, a very rich transition and maybe the core of my work.
Set in Cape Cod, the Wakeby Day/Wakeby Night monotypes, oil paintings, pastels and editioned prints reflect a remarkable study of landscape and memory. Originally commissioned by Kathy Halbreich at the Committee of the Visual Arts of the Massachusetts Institute of Technology in 1983, Mazur's interest in the contrasting experience of nature during the day and during the night at his home in Mashpee, Massachusetts counted as an important part of his creative output for years to come.
Each panel in the original Wakeby Day/Wakeby Night composition represented the single largest monotype ever printed at that point in time. Mazur spent three weeks in January 1983 working on various smaller studies before tackling the massive scale that he wanted for the commission. Following the commission, MIT held a solo exhibition of the Wakeby studies, prints and monotypes that Mazur had produced in conjunction with his commission. Two of the monumental Wakeby monotypes are in the permanent collection of MIT, one is in the Brooklyn Museum and one is in the Smithsonian American Art Museum. Mazur worked on this subject matter from 1982 to 1986. In 1984 and 1986, Mazur produced two ambitious and stunning editioned Wakeby prints in collaboration with master printer Judith Solodkdkin at Solo Press. These prints furthered Mazur's interest in technical experimentation by combining lithography, wooduct and monotype with chine colle, adding new layers of inset and transparency to the prints.
Characterized by painterly drips, studies of water, oversized flowers in the foreground and "ghosts" of past prints and monotypes, Mazur's depictions of the Wakeby pond correspond to a dynamic, if not mysterious vision of a landscape that is in constant flux. This effect is heightened by Mazur's manipulation of the monotype medium, which allowed for a visual record of his creative evolution. Indeed, after printing a monotype, Mazur would often continue working from "ghost" impressions of the plate, such that new impressions of the Wakeby Pond landscape would bear hints of a previous likeness.
Mazur's fluid vision of time and nature further resulted in frequent inclusions of cut-outs of past Wakeby landscape prints in newer works, creating 'picture-within-picture' compositions, and disrupting the seemingly linear timeline of the landscape. The inserts in the Wakeby works are occasionally close-ups of a detail, or windows into an alternate time, a peek of night during day, or vice-versa. These details offer an exciting tension in the composition, as similes and metaphors would in a poem.
Anchoring these multiple timelines and evolving nature are large sunflowers that frequently act as stand-ins for figures, bearing witness to the landscape alongside the viewer, thus personifying the landscape as a tangible, living thing. Indeed, the Wakeby Day/Wakeby Night series denote an organic quality—the liquid effects and whispers of past prints mingle together to create naturally vibrant universes within Mazur's oeuvre"As the monotypes began to loosen up and my confidence in the surface and the accidental grew, the paintings followed suit. Prior to monotypes, prints always followed drawings for paintings in the sequence of things. There were very few prints without a source. The monotypes, on the other hand, created their own absolutely unique organic thing and didn't need a model," Mazur explained.
The masterful range of technical nuances used to make these works —from the use of a roller to offset an image on one plate to another, the use of solvents to create painterly drips and layers, as well as the artist's use of his own fingers and rags—make the Wakeby Day/Wakeby Night series landmark works in Mazur's career and the monotype medium in general.