Willem de Kooning
If Jackson Pollock was the public face of the New York avant-garde, Willem de Kooning could be described as an artist's artist, who was perceived by many of his peers as its leader. He was born in Rotterdam, where he grew up in an impoverished household and attended the Rotterdam Academy, training in fine and commercial arts. In 1926, the adventurous young artist stowed away on a ship bound for Argentina. While the ship was docked in Virginia, de Kooning slipped off, skirted immigration, and made his way to New Jersey—and so began the rest of his life.In New Jersey, de Kooning found work as a house painter. Large brushes and fluid paints were the tools of this trade, ones that he would continue to utilize throughout his artistic career. His dual foundations in drawing and craftsmanship underlay all of his work, even his most abstract paintings.
De Kooning's next stop was New York, where he forged his artistic career. The Jazz Age was in full swing when he moved to the city, and he quickly fell under the sway of the lyrical freedom of jazz and the abstract art made by other artists under its influence. New York also brought him into contact with the work of Henri Matisse and with contemporaries including John Graham and Arshile Gorky, with whom he developed a particularly close and inspiring friendship.In 1929, the Great Depression brought the Jazz Age to a crashing end. As part of President Franklin D. Roosevelt's Works Progress Administration (WPA) program, in the 1930s de Kooning was commissioned to design public murals; he worked under Fernand Léger, who proved to be an important influence. Though his studies for the murals were never realized, they were among his first abstractions, and the experience of working on this project spurred him to pursue art making full-time.
By the 1940s, de Kooning had gained prominence as an artist. Over the course of a career lasting nearly seven decades, he would work through a wide array of styles, eventually cementing himself as a crucial link from New York School painting to European modernism. Physical labor and countless revisions were constants in his work, which ranged from abstraction to figuration, often merging the two. "I never was interested in how to make a good painting…," he once said. "I didn't work on it with the idea of perfection, but to see how far one could go…"1 The female figure was an especially fertile subject for the artist. His paintings of women were among his most controversial works during his lifetime and continue to be debated today.
Jasper Johns
Jasper Johns was born in 1930 in Augusta, Georgia, and raised in South Carolina. He began drawing as a young child, and from the age of five knew he wanted to be an artist. For three semesters he attended the University of South Carolina at Columbia, where his art teachers urged him to move to New York, which he did in late 1948. There he saw numerous exhibitions and attended the Parsons School of Design for a semester. After serving two years in the army during the Korean War, stationed in South Carolina and Sendai, Japan, he returned to New York in 1953. He soon became friends with the artist Robert Rauschenberg (born 1925), also a Southerner, and with the composer John Cage and the choreographer Merce Cunningham.
Jasper Johns was born in 1930 in Augusta, Georgia, and raised in South Carolina. He began drawing as a young child, and from the age of five knew he wanted to be an artist. For three semesters he attended the University of South Carolina at Columbia, where his art teachers urged him to move to New York, which he did in late 1948. There he saw numerous exhibitions and attended the Parsons School of Design for a semester. After serving two years in the army during the Korean War, stationed in South Carolina and Sendai, Japan, he returned to New York in 1953. He soon became friends with the artist Robert Rauschenberg (born 1925), also a Southerner, and with the composer John Cage and the choreographer Merce Cunningham.
Together with Rauschenberg and several Abstract Expressionist painters of the previous generation, Jackson Pollock, Willem de Kooning, and Barnett Newman, Johns is one of the most significant and influential American painters of the twentieth century. He also ranks with Dürer , Rembrandt , Goya , Munch, and Picasso as one of the greatest printmakers of any era. In addition, he makes many drawings—unique works on paper, usually based on a painting he has previously painted—and he has created an unusual body of sculptural objects.
Johns' early mature work, of the mid- to late 1950s, invented a new style that helped to engender a number of subsequent art movements, among them Pop, Minimal, and Conceptual Art . The new style has usually been understood to be coolly antithetical to the expressionistic gestural abstraction of the previous generation. This is partly because, while Johns' painting extended the allover compositional techniques of Abstract Expressionism, his use of these techniques stresses conscious control rather than spontaneity.
Johns' early style is perfectly exemplified by the lush reticence of the large monochrome White Flag of 1955 (1998.329 ). This painting was preceded by a red, white, and blue version, Flag (1954–55; Museum of Modern Art, New York), and followed by numerous drawings and prints of flags in various mediums, including the elegant oil on paper Flag (1957; 1999.425 ). In 1958, Johns painted Three Flags (Whitney Museum of American Art, New York), in which three canvases are superimposed on one another in what appears to be reverse perspective, projecting toward the viewer.
The American flag subject is typical of Johns' use of quotidian imagery in the mid- to late 1950s. As he explained, the imagery derives from "things the mind already knows," utterly familiar icons such as flags, targets, stenciled numbers, ale cans, and, slightly later, maps of the U.S.
It has been suggested that the American flag in Johns' work is an autobiographical reference, because a military hero after whom he was named, Sergeant William Jasper, raised the flag in a brave action during the Revolutionary War. Because a flag is a flat object, it may signify flatness or the relative lack of depth in much modernist painting. The flag may of course function as an emblem of the United States and may in turn connote American art, Senator Joseph McCarthy, or the Vietnam War, depending on the date of Johns' use of the image, the date of the viewer's experience of it, or the nationality of the viewer. Or the flag may connote none of these things. In Johns' later work, for example The Seasons, a set of intaglio prints made in 1987 (1999.407a–d ), it seems inescapably to refer to his own art. In other words, the meaning of the flag in Johns' art suggests the extent to which the "meaning" of this subject matter may be fluid and open to continual reinterpretation.
As Johns became well known—and perhaps as he realized his audience could be relied upon to study his new work—his subjects with a demonstrable prior existence expanded. In addition to popular icons, Johns chose images that he identified in interviews as things he had seen—for example, a pattern of flagstones he glimpsed on a wall while driving. Still later, the "things the mind already knows" became details from famous works of art, such as the Isenheim Altarpiece by Matthias Grünewald (1475/80–1528), which Johns began to trace onto his work in 1981. Throughout his career, Johns has included in most of his art certain marks and shapes that clearly display their derivation from factual, unimagined things in the world, including handprints and footprints, casts of parts of the body, or stamps made from objects found in his studio, such as the rim of a tin can.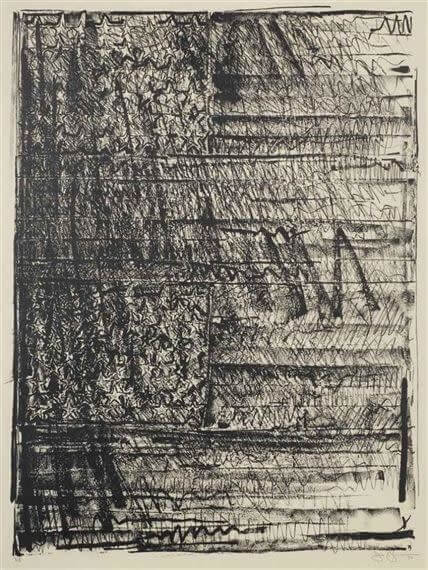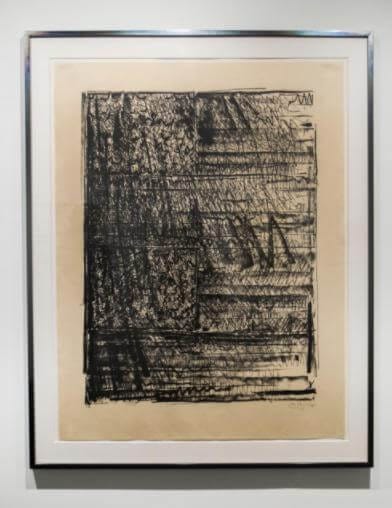 Yves Klein
Yves Klein, born in 1928 in Nice, had as a first vocation to be a judoka. It was only back in Paris, in 1954, that he dedicated himself fully to art, setting out on his 'adventure into monochrome'.
Animated by a quest to 'liberate colour from the prison that is the line', Yves Klein directed his attention to the monochrome which, to him, was the only form of painting that allowed to 'make visible the absolute'.
By choosing to express feeling rather than figurative form, Yves Klein moved beyond ideas of artistic representation, conceiving the work of art instead as a trace of communication between the artist and the world; invisible truth made visible. His works, he said, were to be 'the ashes of his art', traces of that which the eye could not see.
Yves Klein's practice revealed of new way of conceptualising the role of the artist, conceiving his whole life as an artwork. 'Art is everywhere that the artist goes', he once declared. According to him, beauty existed everywhere, but in a state of invisibility. His task was to to capture beauty wherever it might be found, in matter as in air. The artist used blue as the vehicle for his quest to capture immateriality and the infinite. His celebrated bluer-than-blue hue, soon to be named 'IKB' (International Klein Blue), radiates colourful waves, engaging not only the eyes of the viewer, but in fact allowing us see with our souls, to read with our imaginations.
From monochromes, to the void, to his 'technique of living brushes' or 'Anthropometry'; by way of his deployment of nature's elements in order to manifest their creative life-force; and his use of gold as a portal to the absolute; Yves Klein developed a ground-breaking practice that broke down boundaries between conceptual art, sculpture, painting, and performance.
Just before dying, Yves Klein told a friend, "I am going to go into the biggest studio in the world, and I will only do immaterial works."
Between May 1954 and June 6, 1962, the date of his death, Yves Klein's life was focussed on creating a flamboyant work that marked his era and still shines today.
http://www.yvesklein.com/en/biographie
***This sculpture has a few slight abrasions to the reverse. It is easily fixed and the restoration has already been contracted with the only foundation certified restorer in the USA. The Corona virus has affected the travel arrangements and it has been delayed.
These routinely sell for over. $125,000 USD at auction
Roy Lichtenstein
Roy Lichtenstein was one of the most influential and innovative artists of the second half of the twentieth century. He is preeminently identified with Pop Art, a movement he helped originate, and his first fully achieved paintings were based on imagery from comic strips and advertisements and rendered in a style mimicking the crude printing processes of newspaper reproduction. These paintings reinvigorated the American art scene and altered the history of modern art. Lichtenstein's success was matched by his focus and energy, and after his initial triumph in the early 1960s, he went on to create an oeuvre of more than 5,000 paintings, prints, drawings, sculptures, murals and other objects celebrated for their wit and invention.
Roy Fox Lichtenstein was born on October 27, 1923, in New York City, the first of two children born to Milton and Beatrice Werner Lichtenstein. Milton Lichtenstein (1893–1946) was a successful real estate broker, and Beatrice Lichtenstein (1896–1991), a homemaker, had trained as a pianist, and she exposed Roy and his sister Rénee to museums, concerts and other aspects of New York culture. Roy showed artistic and musical ability early on: he drew, painted and sculpted as a teenager, and spent many hours in the American Museum of Natural History and the Museum of Modern Art. He played piano and clarinet, and developed an enduring love of jazz, frequenting the nightspots in Midtown to hear it.
Lichtenstein attended the Franklin School for Boys, a private junior high and high school, and was graduated in 1940. That summer he studied painting and drawing from the model at the Art Students League of New York with Reginald Marsh. In September he entered Ohio State University (OSU) in Columbus in the College of Education. His early artistic idols were Rembrandt, Daumier and Picasso, and he often said that Guernica (1937; Museo Reina Sofía, Madrid), then on long-term loan to the Museum of Modern Art, was his favorite painting. Even as an undergraduate, Lichtenstein objected to the notion that one set of lines (one person's drawings) "was considered brilliant, and somebody's else's, that may have looked better to you, was considered nothing by almost everyone."i Lichtenstein's questioning of accepted canons of taste was encouraged by Hoyt L. Sherman, a teacher whom he maintained was the person who showed him how to see and whose perception-based approach to art shaped his own.An entire panoply of works produced during the 1970s were complex encounters with Cubism, Futurism, Purism, Surrealism and Expressionism. Lichtenstein expanded his palette beyond red, blue, yellow, black, white and green, and invented and combined forms. He was not merely isolating found images, but juxtaposing, overlapping, fragmenting and recomposing them. In the words of art historian Jack Cowart, Lichtenstein's virtuosic compositions were "a rich dialogue of forms—all intuitively modified and released from their nominal sources."v In the early 1980s, which coincided with re-establishing a studio in New York City, Lichtenstein was also at the apex of a busy mural career. In the 1960s and 1970s, he had completed four murals; between 1983 and 1990, he created five. He also completed major commissions for public sculptures in Miami Beach, Columbus, Minneapolis, Paris, Barcelona and Singapore.
Saul Steinberg
Famed worldwide for giving graphic definition to the postwar age, Saul Steinberg (1914-1999) had one of the most remarkable careers in American art. While renowned for the covers and drawings that appeared in The New Yorker for nearly six decades, he was equally acclaimed for the drawings, paintings, prints, collages, and sculptures he exhibited internationally in galleries and museums.
Steinberg crafted a rich and ever-evolving idiom that found full expression through these parallel yet integrated careers. Such many-leveled art, however, resists conventional critical categories. "I don't quite belong to the art, cartoon or magazine world, so the art world doesn't quite know where to place me," he said. 1 He was a modernist without portfolio, constantly crossing boundaries into uncharted visual territory. In subject matter and styles, he made no distinction between high and low art, which he freely conflated in an oeuvre that is stylistically diverse yet consistent in depth and visual imagination.
https://saulsteinbergfoundation.org/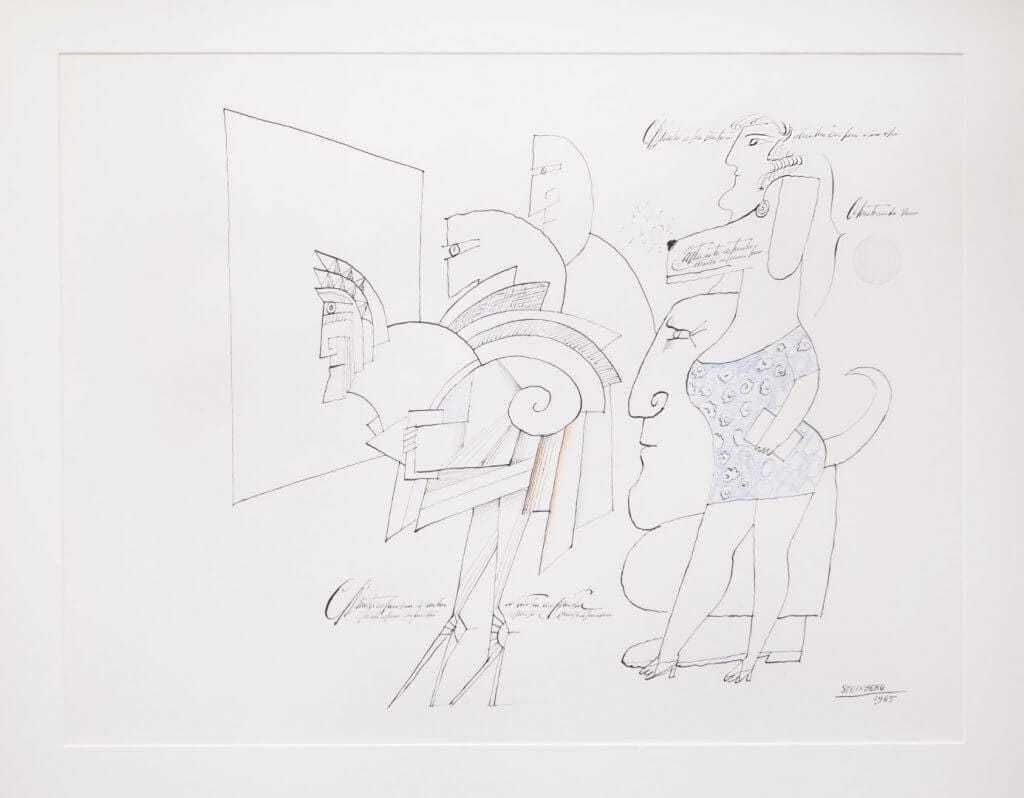 Tom Wesselmann
Tom Wesselmann was an American Pop artist best known for his collages, sculptures, and screenprints that stylized the female figure. Often isolating segments of the body—red lips with a cigarette, a single nipple, or a stylish shoe—his artworks aim was to seize a viewer's attention. "The prime mission of my art, in the beginning, and continuing still, is to make figurative art as exciting as abstract art," he once said of his work. Born on February 23, 1931 in Cincinnati, OH, he was drafted into the US Army to serve in the Korean War in 1952. Returning home after the war, he studied drawing at the Art Academy of Cincinnati before working as an illustrator of comic strips and men's magazines. In 1956, he moved to New York where he attended the Cooper Union. Soon after graduation, Wesselmann founded the Judson Gallery, along with Jim Dine and Marcus Ratliff. Beginning in the 1960s, with his Great American Nude series, Wesselman drew from Americana and media culture, to produce billboard-scaled paintings in flat bold colors. Like Dine, he was associated with the Pop Art movement but disagreed with being labeled as such. Through the following decades, the artist honed his idiosyncratic style while continuing to live in New York, NY until his death on December 17, 2004. Today, the artist's works are in the collections of the Art Institute of Chicago, The Museum of Modern Art in New York, the Tate Gallery in London, and the National Gallery of Art in Washington, D.C., among others.
https://www.tomwesselmannestate.org/about/biography/