Jesus Moroles granite sculptures are created through a "tearing" process where the artist drills small holes in the granite and put wedges into it. Then pressure is applied to the middle of the stone to tear it in a line or in a curve, opening up the middle of the granite to show all the crisp untouched granite.
Born in Corpus Christi, Texas, in 1950, Moroles received his Bachelor of Fine Arts from the University of North Texas, Denton, in 1978 and apprenticed under Luis Jimenez for one year immediately after his graduation. In 1979 he left for Italy worked in Pietrasanta, Italy for one year before starting his body of work for which he is widely known.

Critical recognition for Moroles came quickly. In 1981, Moroles purchased his first large diamond saw, which began his journey towards creating a workshop dedicated to his artistic vision. In 1983, Moroles built a studio in Rockport, Texas, where he continues to live and work. The workings of the studio became a family effort with the artist involving his parents Jose and Maria, his brother, Hilario, his sister, Suzanna, and brother-in-law, Kurt Kangas as integral parts of the Moroles Studio. This facility is unequaled in the country for making large scale sculptures.
His most visible public sculpture is Lapstrake 1987, a massive 22 feet tall, 64-ton work located across from the Museum of Modern Art in New York. Moroles has received significant national attention with his inclusion in the landmark exhibitionContemporary Hispanic Art in the United States, which was shown at major American museums. His largest scale single work is the Houston Police Officers Memorial, dedicated in November 1992. The memorial is comprised of a granite and earth rising stepped pyramid surrounded by four equal inverted stepped pyramids excavated from the ground.
Moroles has more than 2,000 works in place in China, Egypt, France, Italy, Japan, Switzerland, and the United States, in museum, corporate, public and private collections. To date Moroles's work has been included in over one hundred and sixty one-person exhibitions and one hundred and ninety group exhibitions worldwide. Among his distinctions, Moroles is a member of the Board of the Smithsonian American Art Museum in Washington, DC, and recipient of the 2007 Texas Medal of the Arts Award for Visual Arts by the Texas Cultural Trust.
Remarkably an inherent property of tf the work is its ability to play a musical scale when lightly stroked In 2001, Moroles began to strike his sculptures, sometimes with batons, sometimes with his hands or his feet, creating a type of music one audience member called "an unearthly composition . . . that recalled the effect of the . . . Orient
Regretably Jesus Moroles died in a tragic Automobile Accident in 2015

Jesús Bautista Moroles (American, 1950-2015) "Vanishing Edge Round," 1991, granite sculpture. 34.5″ H x 13″ W x 7″ D.Chelsea Art group is offering this work at $ 20,000.00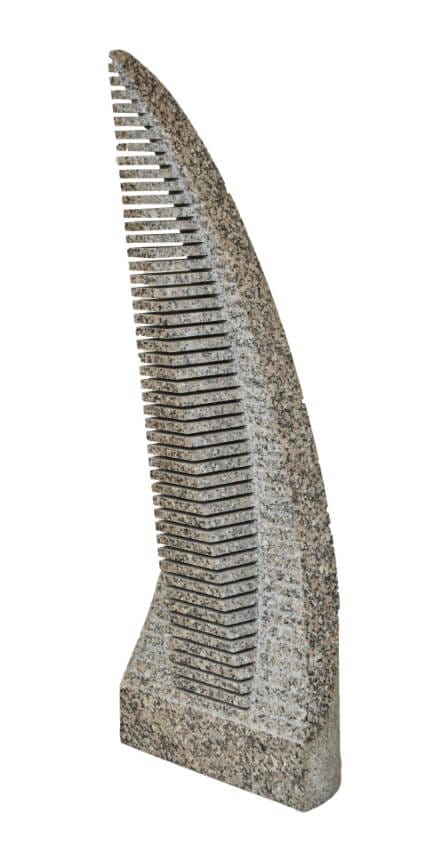 Moroles was featured in a ground breaking exhibition of Latino artists at the Smithsonian drawn from its own collection.https://americanart.si.edu/exhibitions/our-america
You Tube Videos about the artist
https://www.youtube.com/watch?v=2Mp8UGk4-ks
https://www.youtube.com/watch?v=244Yu1DLhG0
Collection ReferencesSmithsonian
https://americanart.si.edu/artist/jesus-moroles-5827
NEA Medal Winner
https://www.arts.gov/honors/medals/jes%C3%BAs-moroles
Rice Universityhttps://moody.rice.edu/art/jesus-moroles
United States Department of State
https://art.state.gov/personnel/jesus_moroles/
INTERNATIONAL SCULPTURE CENTER
https://www.sculpture.org/artandsculpture/collection/artists/Moroles.shtml
Lamar University
https://www.lamar.edu/public-art/jesus-moroles.html
Rockport Center for the Arts
https://www.rockportartcenter.com/exhibitions/2009/6/23/jesus-moroles-amp-kent-ullberg
Baylor University
https://www.baylor.edu/martinmuseum/news.php?action=story&story=127512
Hall Wineries NAPA
https://www.hallwines.com/jesus-moroles
Publications
http://literalmagazine.com/jesus-moroles-sculptor-1950-2015/